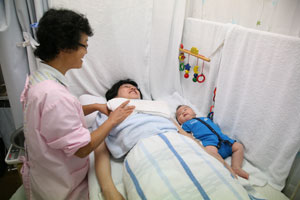 The unique Oketani breast management technique was invented by Ms Sotomi Oketani. This is a painless breast massage which is different from the painful conventional breast massage. It is a unique technique to improve the flexibility of the base of the breast (behind of the body of the mammary gland) and make milk secretion smooth. Also the quality of breast milk produced is very important in this method. We believed that it is related to the growth of the baby. We create an individual program that fits the child and its mother, enabling the baby to drink milk of good quality and taste.
Our centre offers this method to mothers having problems with breastfeeding, for instance a lack of milk produced, painful tense breasts and also a baby showing reluctance to drink breast milk.
The brainstorming session of the unique Oketani breast management technique made up of qualified midwives who finished their predefined training in the training centre (now located in Tokyo) and certified it. There are approximately 500members and about 270 consultation clinics of breastfeeding in Japan. There are follow-up lecture sessions twice a year and the members must attend to improve the technique.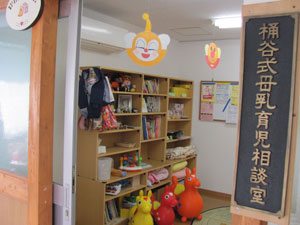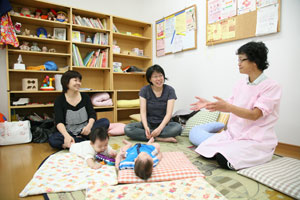 I felt a sudden pain on the back of my hand. Then I heard Teacher Oketani's angry voice saying 'Go back home!!'. She had slapped my hand. I was shocked and just stood there. She shouted again 'That isn't Oketani technique . I don't want to teach it to someone who touches a breast like that. Get out!'. I couldn't bear to be there. I was crying and running to the nearest station to go back home. It was February 1981. This episode occurred when I visited her before starting the training.
At that time, I had copied the unique Oketani breast treatment technique from my seniors who had already trained and practiced it in a hospital where I used to work. Even though I didn't have a proper train, mothers were pleased with it because there was no pain during the massage and breastfeeding improved compared to the conventional massage. So I believed that my technique was quite good. That's why I had a confidence to do it in front of her when she asked me to show what I know. Yet it upset her.
I couldn't stop crying on the way back home on that day, because I was embarrassed to be told off in front of people. Also I was angry with myself for being arrogant and I felt ashamed of my unskilled technique. I think the reason why she got upset at me so much was my unskilled massage, as well as I didn't take good care of touching a breast. I really wished that I would learn the proper technique and careful touch at that time.
The next day I apologised to her and she allowed me to take her course. I was very pleased at her forgiveness. I had happy tears.
My first encounter with her was the turning point of my life, which was 30 years ago. If I hadn't met her, I would have become an arrogant and over-confident midwife who would have bothered a lot of people.
I hope that I can keep a generous feeling of love and continue to improve my technique as I remember the feeling of that day, even though it was a long time ago. Also I really hope that our centre is helping to ease mother's anxiety and their breast's problems.