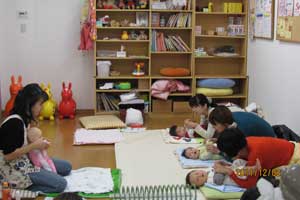 Baby Massage
Once a month
Lecturer:
Ms Noriko Nakamura
Association of JAA Japan Aroma Coordinators (Child Care coordinators, Aroma Coordinators)
Incorporated NPO Association of International Therapist (Baby Care instructors )
Babies seem to be comfortable being massaged by the warm hands of their mothers
★Schedule

Please make reservations by phone.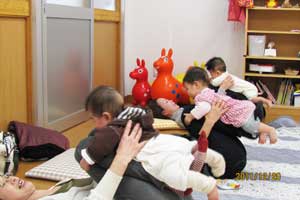 Enjoyable Ki and Yoga with a baby
Once a month
Lecturer: Ms Mami Aino
Instructor of Healthy Practical Exercise (She has participated actively with people from babies to seniors of the community.
You will find more enjoyment in child care if you feel able to take care of your baby through Ki and Yoga.
★Schedule
Please make reservations by phone.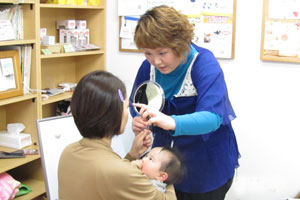 Makeup lesson for mothers
Please join the lesson with your baby.
Once a month
Lecturer:
Ms Natsu
Lecturer: natsu
Organiser of makeup advice natsu
She has taught makeup at home-visit. (personal lessons or group lessons)
She has also participated actively in many events.
This lesson is for mothers who wish to maintain their looks even though busy with child care. We dont do soliciting or sales of cosmetics.
1: Eyebrow makeup course
2: Eye makeup course
3: Cheek and base makeup course
Feel fresh with new makeup! Enjoy going out again.
★
Schedule
Please make reservations by phone.
.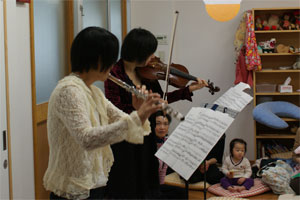 Meeting of music and children books
15/12/2012(Thu)
In Ida-jyosanin We held a small concert with flute player, Ms Satoko Ota who had organised a child-friendly concert for us 2 years ago. Also one of her friends, violin player Ms Yoko Matsubara cooperated and senior mothers helped by reading a childrens' book. 16 pairs of mothers and infants joined us to relax. The children seemed to enjoy the beautiful sounds. The mothers also seemed to be relaxed because they could do breastfeeding and change nappies anytime during the concert.
We hope to continue to hold this kind of concert again.

Holding a children-friendly concert
30/09/2009
In Midwife Hall in Osaka
We organised a classic concert of flute and harp in which mothers could do breastfeeding during the concert. This idea came from a conversation with flute player, Ms Satoko Ota who used to visit our clinic. We thought that there are no concerts of prenatal care in which infants could join.
Normally we cant go to classic concerts with babies and have no way to do breastfeed during it. So we wanted mothers who were very busy in daily life to be able to listen to beautiful sounds while breastfeeding.
We held this concert with many mothers and midwives. Ms Ieko Mazu who is a director of Japanese Harp Corporation accepted our invitation to play harp in the concert.
Even though it was raining at that day, 130 couples of mothers and infants came. We were convinced that mothers who had busy lifes with babies also wanted to enjoy music